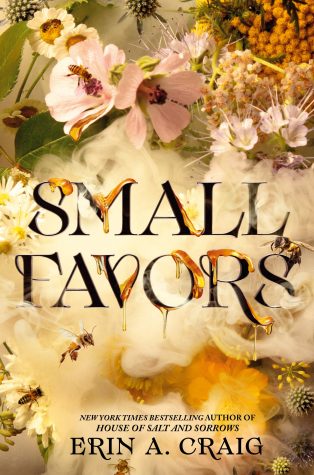 Ellerie Downing lives in the quiet town of Amity Falls in the Blackspire Mountain range–five narrow peaks stretching into the sky like a grasping hand, bordered by a nearly impenetrable forest from which the early townsfolk fought off the devils in the woods. To this day, visitors are few and rare. But when a supply party goes missing, some worry that the monsters that once stalked the region have returned.
As fall turns to winter, more strange activities plague the town. They point to a tribe of devilish and mystical creatures who promise to fulfill the residents' deepest desires, however grand and impossible, for just a small favor. But their true intentions are much more sinister, and Ellerie finds herself in a race against time before all of Amity Falls, her family, and the boy she loves go up in flames. 
review
This is a book I was really excited for. I loved Craig's debut, A House of Salt and Sorrows and when I went into this book I was looking forward to it. I'm honestly not sure what went wrong for me to be honest. I was into it in the beginning, and I think that it was an intriguing idea. But something…somewhere it fell off for me and about midway I was starting to struggle through it. So you can imagine I am so disappointed I didn't like it more than I did. But this will definitely be a book for some people. To be clear it was a good book, it just wasn't what I was expecting and parts of it didn't work for me.

First off, I think people who like Stephen King or lite horror will love this book. It certainly was atmospheric. Another book that has similar vibes is Strange Grace by Tessa Gratton. They both have this eerie feeling that builds as the book goes on. Small village, cut off from the rest of the world, something lurking beyond the borders…those are the main parts of this novel. Like I said, it is atmospheric and moody which were major points. Craig is really great at doing things with atmosphere.

The major issue I had I think was the pacing. The pacing felt off to me. It's supposed to build and unfortunately, I think it built a little too slowly for my tastes. I felt instead of building it dragged a bit by the middle. Some parts felt a little too repetitive. It get what the aim of it was, but it still didn't totally work for me. And that I think was the main crux – the pacing didn't work for me which made the later parts of the novel not as interesting.

I also didn't love the romance aspect of this book. I felt that it was a bit strange addition, especially the further we get into the book. I also felt the characters didn't hold up as well as they could have. I don't mind that Ellerie didn't figure out what was going on, but I did have issues because it felt like once something happened nothing happens for several more chapters.

What I did like about the characters is you're suspicious of everyone. You have no clue who is who or who is bad or who is good and I really liked that aspect of this book. It was well done because it kept you guessing all the way until the end of the book. I certainly didn't see the twist coming at the end, and I was surprised.
The other thing is this book feels like it's supposed to be a fantasy world, but it also feels like it is supposed to be set in our world, which is a little confusing for me to be honest.

Craig is a great writer, and the writing is good, and enjoyable to read. I don't feel like I was struggling with the writing at all. It was clear and concise and helped as I said build up such a creepy atmosphere. I could see this as a good story for the summer or the fall. It is definitely mystery/thriller/creepy/horror lite.

Overall, I think it is a good book and will hit the spot for some readers and miss the mark for others depending on what you like. For me, it just didn't go far enough and then in some ways it was too slow. Apparently, this was supposed to be a partial fairytale retelling, but I didn't get that in this book. I wouldn't say it was a retelling. My final comment is I think I enjoyed it, but not as much as her debut book.