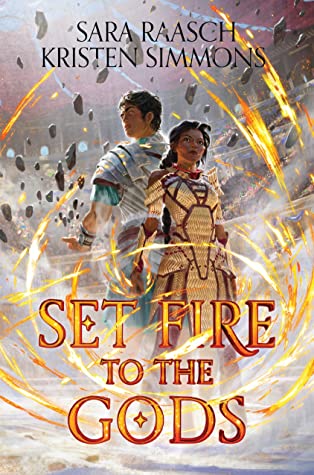 Title: Set Fire to the Gods
Series: Set Fire to the Gods #1
Author: Sara Raasch, Kristen Simmons
Genre: young adult, fantasy
Publisher: Balzer + Bray
Release Date: August 4, 2020
Format: hardcover
Page Count: 432
Source: LitJoyCrate
---
Goodreads Synopsis
Ash is descended from a long line of gladiators, and she knows the brutal nature of war firsthand. But after her mother dies in an arena, she vows to avenge her by overthrowing her fire god, whose temper has stripped her country of its resources.
Madoc grew up fighting on the streets to pay his family's taxes. But he hides a dangerous secret: he doesn't have the earth god's powers like his opponents. His elemental gift is something else—something that hasn't been seen in centuries.
When an attempted revenge plot goes dangerously wrong, Ash inadvertently throws the fire and earth gods into a conflict that can only be settled by deadly, lavish gladiator games. The fights put Madoc in Ash's path, and she realizes that his powers are the weapon her rebellion needs—but Madoc won't jeopardize his family, regardless of how intrigued he is by the beautiful warrior.
But when the gods force Madoc's hand, he and Ash uncover an ancient war that will threaten more than one immortal—it will unravel the world.
---
Review
When I saw the description of this book I was excited. It sounded like one that I would really enjoy. I have a BA in Classics, and so I was truly looking forward to a take on mythology. And this was definitely a take on it. At first I wasn't sure how to feel about this book, because I felt that there was nothing about it that I really hated. But there was nothing about it that made me gasp or roll over in surprise. And so, this ended up being a middle book for me. One that I enjoyed, but not one that I am thinking about perpetually.
Is this a bad thing? No, I don't think so. It was a good distraction and a fun read. I am curious how the second book is going to deal with the ending of this one, so I will be picking up the second one from my library if/when they get it. I'm invested enough that I am curious to see what is going to happen next, which is why I gave this book 3.5 stars versus 3 stars I might have otherwise given it.
One of the things I worried about was how the two author's styles were going to work, and to be honest, I think they worked very well. The writing was good, and so was the dialogue. I have no complaints about any of that. I think the pacing might have been a little better, but it wasn't something that overly bothered me in the grand scheme of things. I think the styles of the two authors worked well together to form this book. You know how sometimes it is really obvious when two people are working on something together? Yeah. Not the case here. As I said it was all well meshed together which made for an enjoyable reading experience.
I enjoyed the world that was created. I especially enjoyed the aspect of elementals and that magic. I loved how it was presented. I also enjoyed how gladiators were presented in this world. I loved the take on it so much. I think those two parts were some of the best in the book.
I liked the characters fine, I didn't particularly feel very invested in them, or in them as much as I would have liked. They weren't bad characters by any stretch of the imagination, but I just felt that they weren't as well rounded as they could be.
In the end, I did enjoy the book and will be picking up the second.